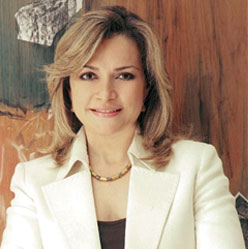 OLGA J. MUÑOZ
AIA, CAAPPR
Managing Partner
Olga J. Muñoz, Managing Partner of Soltero, Muñoz + Associates, holds over 25 years of experience in retail, residential, and institutional architecture design, planning, entitlements and management. She graduated Cum Laude, with a Bachelor Degree in Architecture at the University of Louisiana. She was recipient of the AIA Award from the Henry Adams Fund, the School of Architecture Thesis Award. Ms. Muñoz is currently a member of the American Institute of Architects, the College of Architects and Landscape Architects of Puerto Rico, and The International Council of Shopping Centers.
As Partner in Charge at SM+A for various major corporations and developers, Ms. Muñoz has provided clients hands on experience and technical expertise in the architectural design, entitlements, permitting, land use analysis, project programming, project assessment, scheduling and managing. Her strong qualifications as Design and Entitlement Project Manager has been essential and a determining factor in organizing, and achieving aggressive construction programs for many investors in the Island, including Fortune 500 companies such as The Home Depot and Walgreens for which she was responsible of 28 projects, adding a total construction investment of $135 millions.
Mrs. Muñoz as Managing Partner of SM+A, is currently in charge of the Architectural Site Management, Building and Civil Interfacing, Entitlements and Permits for The Mall of San Juan, the first upscale mall in Puerto Rico, currently under construction by The Taubman Company with an investment of $440 millions in site and off-site infrastructure and commercial facilities. She also lead SM+A team in creating two-level concept stores for Home Depot and for the design of various multistory / multiuse projects, such as the Trujillo Alto Shopping Center, Guaynabo Gallery, Ciudad Red Cupey and Laderas Shopping Village, which mix commercial, retail and entertainment activities incorporating sustainable building techniques for a total investment of over 85 million dollars in construction costs.
Her outstanding leadership and accomplishments, including the "Top Management Award in Architecture 2007" by the Sales and Marketing Executives (SME), has earned her various recognitions such as being selected as one of "P.R. Most Powerful Women 2006" by Caribbean Business, mayor business newspaper. She was also awarded "Distinguished Women in Mortgage, Banking, Real Estate, and Home Improvement 2005" by "The San Juan Star"; and as "Retail Expert" by "El Nuevo Día" two of the local leading newspapers, among many others. Ms. Muñoz was invited by the former president of Costa Rica, José Figueres as participant of the Mass Transit Symposium held in San José, Costa Rica. She has also been recognized by the Casa Protegida Julia de Burgos for her continuous civic activities in support of the Institution, a shelter for battered women and their children.